Emma Corwin signs on to Colorado State University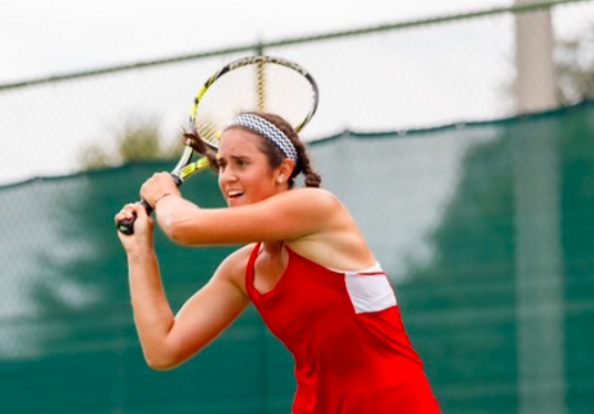 Emma Corwin is a Senior at East who has recently signed on to play Tennis for Colorado State University. Our Staff interviews her regarding this recent achievement. 
Spartan Banner: What first drew you to your sport and why do you continue to play it?
Emma Corwin: My family has all been a big influence on me. With a dad and two older brothers who shared the love, I was kind of roped into it. I love that tennis is an individual sport, that I have to own my mistakes and successes, because there is no one to blame or thank out there but myself.
SB: What are your proudest moments in your sport?
EC: My junior year our team qualified for team state. We went into it as underdogs. Second round we played the number one team in the state, and I knew it was going to come down to my match. I played a girl that I had lost to twice previously in the season. And when it mattered the most I won. That was a very big moment for me. Our team then took second in state. This past season I took third place in the individual state tournament. That was a great end to my high school career.
SB: Who has been the biggest role model for you as you've competed?
EC: My brothers are my biggest role models. Both Tim and Felix are the reason I got into the sport and they are the reason I wanted to play college tennis. Watching them grow and have success I have learned so much. I am super fortunate to have such respectable and hard working brothers.
SB: What college are you planning on attending and what drew you to choose that college?
EC: I am going to Colorado State University. I picked the school because of the tennis. The coach is a super nice and motivating guy.  I also liked that our conference will be playing matches in places I've never been, it's a whole part of America I am excited to explore. After visiting the campus I also loved how active and happy everyone was. I really think I will fit in well there.
SB: What are your biggest goals as you go on to compete at the next level?
EC: My goal is to go through college and get stronger. I know that I have come along way with the sport, but there is still so much more to learn. I am not satisfied with just showing up and having a  good time. I want to go out there and have a good time, but also get better and make a difference on my team.