Elmbrook to Revamp English Curriculum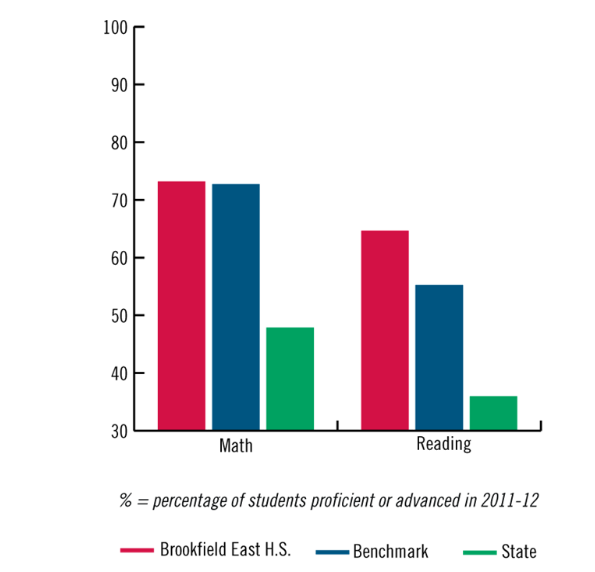 English is one class that almost everyone uses in their post-academic life; from communicating with our peers to drafting our thoughts on to words, English is a universal tool that can be our be our key to opening new worlds.
As the famous poet, Walt Whitman said, "Viewed freely, the English language is the accretion and growth of every dialect, race, and range of time, and is both the free and compacted composition of all."
Brookfield East has been known to showcase academic and human excellence on standardized testing. In 2011-2012, sophomores took the WKCE having about 65% of students score proficient or advanced. Comparatively, the state average was about 35% at the time.
However, with a curriculum realignment coming up in the 2018-2019 school year, the Brookfield East English community is hoping certain changes will be made to continue and greater the success of students for standardized tests and their post-high school career.
English 11 and Honors 10 teacher, Ms. Gommerman, argues one flaw is the high interest in Senior electives, while good for participation, has won out at the expense of rigor and improving skills in post-academia life such as literacy for reading and writing.
Alternatively, Advanced Placement(AP) Literature teacher, Mr. Ortman says something offered between AP Lang and English 11 – English 11 Honors – would be beneficial to build up skills. As in the status quo, students have no choice and it's one or the other.
Ortman goes on to say that the current curriculum is not concerned about ideas and concludes the biggest weakness he sees is organization and supporting ideas with evidence.
Similarly, Senior and AP Literature student, Noemi Duliskovich says, "There is far too much focus on checking off educational requirements and not enough preparation for real-life application.
In lieu of teaching students to do what will help their writing style develop, teachers are forced to meet standardized requirements. Thus, we end with the formulaic five-paragraph essay that lacks any originality or passion."
Ortman provides a solution by recommending students in 9th grade should start writing analysis papers and continuing to perfect that skill throughout the 4 years. Duliskovich emphasizes that the writing of freshmen is relatively linear and that the curriculum should give them the confidence to take risks in writing and express their creativity comfortably. She goes on to contend that preparing students just for standardized tests is not for the sake of learning.
Gommerman selects grammar as a weakness she sees in students, claiming as educators they do a disservice for not teaching grammar as its how to express ourselves professionally in addition to being crucial to standardized tests. Ortman argues that this can be combated by having grammar become heavier at the middle school level, allowing high schoolers to focus on finding a voice through ideas.
Although writing is critical for expression, reading is just as important for inspiration. Gommerman expresses while the writings of Shakespeare are excellent she would love to see works read in class written by womxn and people from different cultures.
She stresses that for the real world, students must know how other people from other cultures view and interact with the world. Ortman furthers that in the past British literature, American literature, and world literature were separate classes which allowed students to go deeper into different ideas and learn different styles, as opposed to now where all three are fused together and less effective.
While our education system may be successful at producing results in testing the English community is calling for an approach allowing the youth to synthesize high-level ideas and transcribe them adequately.