State Senate Candidates Speak at Elmbrook Education Forum
On Wednesday, October 17th every seat was filled at the Central Administrative Office as District five's State Senate candidates filed in. Following a State Assembly Forum the previous day, the Elmbrook School District hosted a forum for both State Senate candidates in the fifth district.
Members of the community were packed into the room, eager to get to know how each candidate planed to represent their community for the next two years.
Moderator Tom Gehl opened a with brief introduction of both candidates and made it clear that this would be a forum in which the candidates could discuss their views on issues that affect our community–not a debate.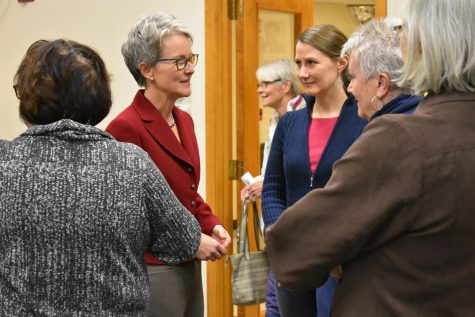 The State Senate race in the fifth district features an election between small business owner Julie Henszey (D) of Wauwatosa and State Assemblyman Dale Kooyenga (R) of Brookfield.
The candidates were asked five questions voted on in a survey sent to attendees. Each question related to education on a state scale. Each candidate was given 90 seconds to respond and 3 minutes for opening and closing statements.
Question 1: What are your top 3 priorities in education?
Starting off with a few acknowledgments to those that put this forum together, Kooyenga focused on having a sustainable funding source for schools with predictions on a two-year cycle.
Kooyenga also voiced his support of Scott Walker's plan to restore education to two-thirds funding. In addition, he focused on breaking down stovepipes even more, and continuing programs such as Dual Enrollment. Kooyenga also supported Foxconn and it's contribution to innovative technology to young college students.
Henszey followed up by stating she wants Wisconsin to be a leader in K-12 and post-secondary education. For that to happen, Henszey supports the restoration of funding to these schools and universities.
Secondly, she focused on reversing the education cuts that Wisconsin has seen over the last seven years. Henszey backs governor candidate Tony Evers in his plan as governor to restore funding in K-12, post-secondary education, and mental health services.
In addition, Henszey wants to reduce the number of standardized tests that she believes de-personalizes students learning. Communication and problem solving are two things Henszey thought the classroom is missing and should be a priority in education.
Question 2: Do you support a comprehensive, predictable, and sustainable funding system for public school students? And if so, how?
Voicing her support, Henszey stated that in order to have quality schools, we need a sustainable funding system. She pointed out that education is a priority for voters as well, citing a Marquette University poll found 80% support for an increase in funding in education – even if it means increasing taxes.
Henszey's plan was to restore funding to two-thirds and raise revenue limits, restore local school boards to govern, and target a 90% reimbursement rate in special education.
Countering his opponent, Kooyenga identified that there has only been one cut in K-12 education in Wisconsin since Republicans have taken over–a hard vote to make. With that cut came measures to help it from seriously harming the tech colleges and UW system.
Focusing on the economy, Kooyenga pointed out that the growing economy has lead to increases in education funding. Kooyenga shared his experience visiting Brookfield Central High School's "Fab Lab" and noticed that big companies have invested in the community, as opposed to other international options.
Kooyenga stated that this has not only created jobs in the community, but given a vision to students as they choose their career path.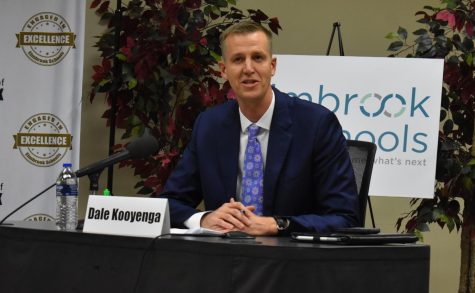 Question 3: Tell us your thoughts about Act 10, what changes, if any, would you recommend and what would you do to attract highly qualified teachers into our state?
Starting off, Kooyenga spoke about how Act 10 has benefited the community. Countering the idea that Act 10 lowered the qualification requirement for teachers, he pointed out that teachers are treated with the utmost respect, much like engineers, lawyers, and doctors.
Kooyenga focused on the outputs of Act 10, including the increases in resources for education, increasing graduation rate throughout diverse groups, and cutting elected officials pensions.
Henszey acknowldeged the commitment and patience teachers put into their jobs. She pointed out how hard they've made it to be a teacher, judging by the consequences including early retirement, teachers moving out of state for better pay, and those in state moving from one district to the next.
The increased rigor with compensation for aspiring teachers has shown positive results, especially in countries that truly invest in education.
Question 4: Do you support the expansion of the voucher program, why or why not?
Henszey argued that the reality is that too many schools have taken advantage of the program. She supported her claim with a number of examples in which students have been at a disadvantage because of the voucher program.
With these programs, the taxpayers have stepped up and the donors have stepped down. Accountability should be a priority if this program is to be sustainable, stated Henszey.
Kooyenga responded that the voucher program is often mischaracterized. He supported a student-centered approach, not a school-centered approach. With the former, a student is funded throughout their path in education.
The assemblyman pointed out that any legislature is unable to expand the program if the parent does not agree upon this decision. Voucher programs have kept cultures together, keeping Jewish or Christian communities together no matter their financial background.
Question 5: Rising costs of healthcare continue to be one of the biggest threats to the financial stability of schools, families, companies, and states across our company. It concerns an increasingly larger portion of new money in our state's budgeting process. What are you willing to do about it?
Both candidates started off strong, voicing support for the healthcare solutions often associated with their political party. Kooyenga provided statistics on the funneling of money to Medicaid, an expenditure he considers unnecessary.
He argued that Henszey's plan supports putting the entire population on Medicaid, further increasing the cost and harm K-12 education. He challenged her to provide a price tag on universal healthcare, arguing that most proposals lack specifics.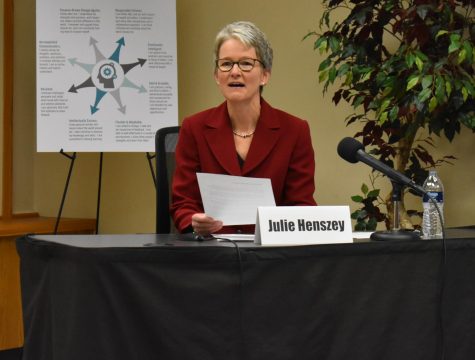 In response, Henszey focused on decoupling health insurance and employers. "Quality, affordable health care is a right", stated Henszey. With that, Henszey listed two specific steps that she plans to take in order to maintain universal healthcare: first, accept the medicare expansion, and second, make BadgerCare a fully public option.
Question 6: We have been described internationally as a nation of testing. Accountability is much bigger than performance on standardized tests. What ideas do you have related to monitoring student's performance on the K-16 education system?
Both candidates voiced support for a decrease in testing. Henszey focused on the idea that students should be given the right tools to succeed and choose their own path. There can be no measure that adequately captures a students passion for life, Henszey stated.
Kooyenga reflected on his experience as a legislator and his part in decreasing testing. He found that requiring the ACT once provided a good metric that would point out areas that need improval.
He criticized his own party in saying that change in tests or metric does not provide a dependable amount of data and there is so much more to education than testing.
Question 7: The funding for costs associated with educating students with disabilities continues to be challenging. At present, Elmbrook receives 26% reimbursement from the State of Wisconsin with the remainder coming from our District's annual budget. What role would you play in reconciling this issue?
Once again, both candidates agreed that education for students with disabilities is important and further be supported. Kooyenga saw that there is room to do more, and smaller districts can suffer from that small budget. But no child should be a disruption, high functioning or not, each kid is worth whatever it takes to get the skills they need.
Echoing her opponent's sentiments, Henszey recognized that the reimbursement plan is inadequate and supports Ever's plan to raise it to 90% reimbursement. Every child with a disability deserves the chance to lead a quality life, starting with quality resources and education, she argued.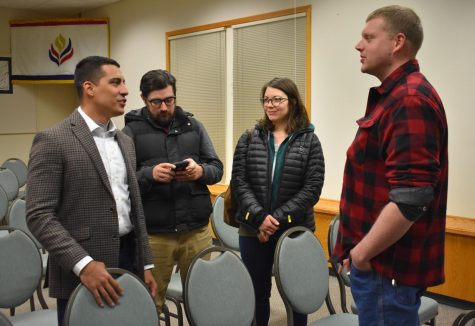 Question 8: Healthcare, transportation, and education make up the big chunks of the state's budget. How do you prioritize these items and why?
Henszey began by arguing we need a transportation system that makes sense, accessible public transit systems, and modern bridges and roads.
She concluded that as long as education suffers, roads will crumble and healthcare will be inaccessible. These priorities should work together and providing the necessary investments would help us get there.
Transportation needs work, Kooyenga stated. He informed that audience that he crafted and proposed legislation to increase the quality of transportation. Growing the economy would allow the community to prioritize all three with a balanced budget.
Question 9: America has fallen out of the top 10 for countries with the highest graduation rate. Wisconsin has fallen behind some of our neighbors in college graduation rate. What are your goals for raising the graduation rates in Wisconsin and how might you accomplish that?
Though both candidates supported efforts to increase the graduation rate, each offered different approaches. Kooyenga made the case that legislatures have fixed the system so soldiers can transfer their credits properly and invested in programs such as Dual Enrollment.
He focused on his experience in fixing these issues, working closely with administrators to increase the budget for colleges and capping tuition in post-secondary education.
Finally, Henszey acknowledged the tie between expenses and decreasing graduation rate. A freeze on tuition, however, has not been funded, still requiring additional expenses for students, stated Henszey. The decision to go to college or not depends on the cost which has not been decreased, states Henszey.
Before the audience knew it, both candidates were asked to give their closing statements. Each summarized their goals and plans for office, should they be elected to office. With such a tight race, both campaigns are charging full speed ahead and hope to earn a seat in Madison on November 6th.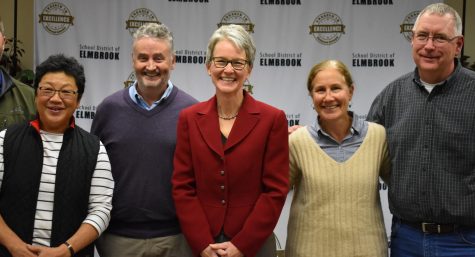 A full video of the forum is available at elmbrookschools.org