Spartan of The Week: Emma Stapel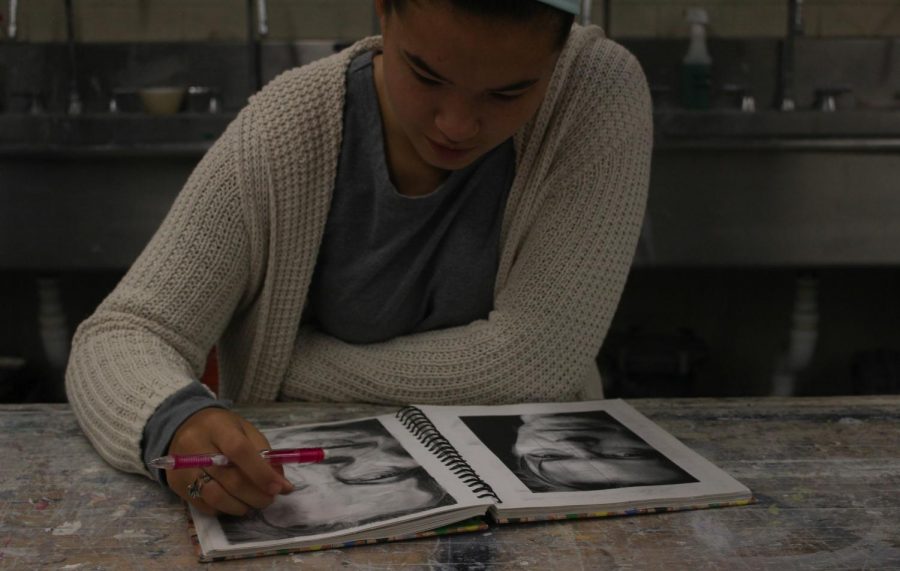 Everyone goes through their own stages in life; for Emma Stapel (10), it has been her different art phases.
This Spartan has been drawing since the early ages of elementary school. She recalls how Mrs. Jacobson, her art teacher for seven years at Dixon Elementary, was the spark that got her passionate about art. Jacobson was someone Stapel could come back to because she knew  "how I have improved from the very beginning".
Even after elementary school, Stapel saw Jacobson quite a bit. After showing Mrs. Jacobson some of her new work, "she was really impressed and said she saw my work on Facebook."
Throughout the years, Stapel has "[gone] through art phases." She has explored a variety of forms of art, including drawing, polymer clay, crocheting in the winter, and sewing over the summer. One of her favorites, drawing, is something she works on everyday. She does so to improve her skills, such as the accuracy of drawing the right line on her first try.
One thing Stapel enjoys drawing is tattoos; she explains that it is "because of the simplicity in line and the ability to have a really interesting line drawing". Outside of tattoo art, Stapel enjoys sketching Disney personalities. She often watches videos of the Disney Animation Academy online to figure out how an artist draws a specific character.
Some may wonder, why is Stapel so invested in her art? She admits that she does not quite know herself, but finds that "time flies when [she draws]." Stapel is  "able to see the creation of [her] work from an idea in [her] head to almost what can look like a picture from online". She also finds that it is a great way to distress when life becomes loaded.
Currently, Stapel takes art classes at East as well. During her freshman year, she took Drawing I to further her passion of drawing. Ms. Smith, an art teacher here at East, actually encouraged all the students in her drawing class to enter the Scholastic Art and Writing competition. It was the first time that Stapel had entered an art competition. Her hard work paid off when she earned an honorable mention for her self portrait.
Coming off her success last year, Stapel is taking a number of art classes and seek even greater heights She looks forward to continuing her art career at at Brookfield East and is excited to see where he talents can take her.