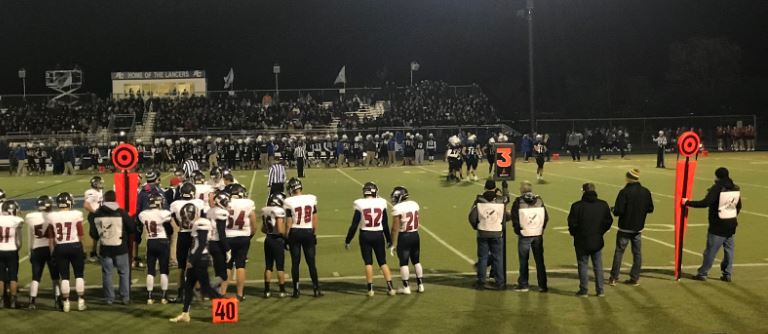 Henry Rousseau
For the fourth year in a row, the Battle for Brookfield took place in the playoffs. Coming in to the night's match, East looked to avenge the 31-7 loss they suffered at the hands of the Lancers during the regular season.
From the start of the game it was apparent that the game would be a defensive slugfest. Both teams exchanged multiple three and outs, runs and passes failing to adequately penetrate the defensive fronts of the Spartans and Lancers.
Turnovers by Brookfield Central(including a spectacular failed hurdle in where Quarterback Drew Leszczynski fumbled inside the red zone and when running back Rashad Lampkin fumbled on the Brookfield East 1 yard line) kept the score close throughout the entire game.
But once again, it was special team mistakes that doomed the Spartans. Two blocked pants by the Lancers led to a 5-0 lead for Central at the half.
The Spartan offense never got going against the Central defense, only gaining two first downs the entire game. Ultimately Brookfield Central prevailed, winning the Battle of Brookfield 14-0.
Congratulations to the graduating seniors:
Joey Pagel, Cam McDonald, Jack Steger, Jack Erwin, Emerson Miller, Eric Dietze, Carter Cousland, Jacob Mandella, Jordan Livingston, Ryan Lappe, Alex Graf, Taidgh McManus, Solomon Stewart, Dom Lopez, Jackson Tillich, Mitch Massa, Jon Szews, Jaiden Rios