Brookfield East Makes Major Changes to Excellence Period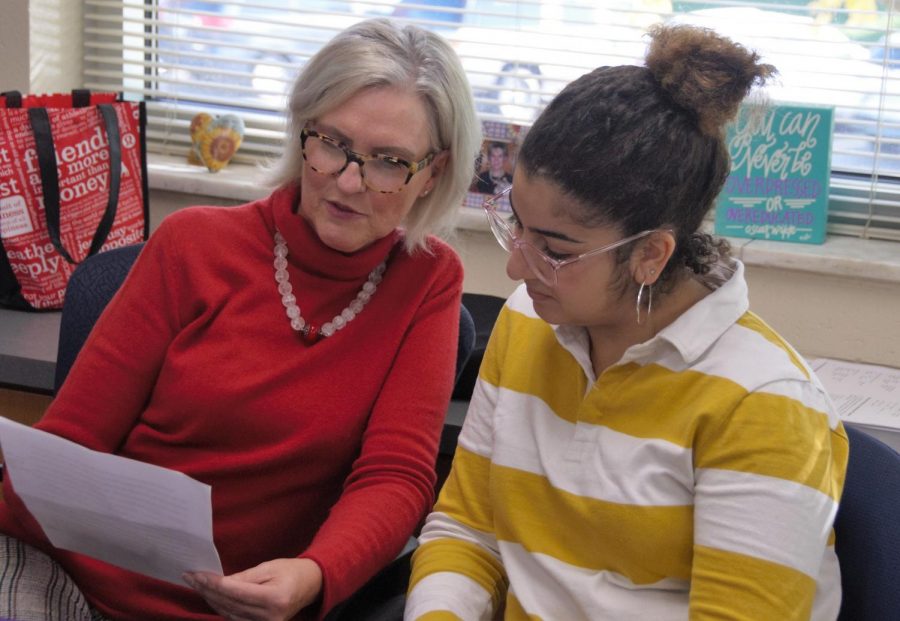 Preparing for life beyond high school is a key focus on many students' minds. High school is a crucial time for maturing individuals to develop executive learning skills-prioritization, task management, planning ahead.
Many students struggle to learn the skills through traditional education. A long-winded AP lecture may help students learn more about the subject area, but leaves them struggling in practical skills that they can take beyond the latest test. Enter Excellence Period.
For the students of Brookfield East, excellence period is a school institution, but the resource period has gone under many changes since its creation. Associate Principal Darcie Fellmeth and one of the excellence periods architects, outline the difficulties of launching the resource block.
"We started our block schedules without resource period," says Fellmeth, noting the resistance from staff members due to the loss of instructional time ended up sinking the idea of the "excellence" proposal to the school board.
That soon changed as school culture evolved to focus on the idea of academic and human excellence. With a need to adapt to the times, resource period was quickly incorporated for the block scheduling.
Resource period turned out to be quite the boon for students on all ends form the academic spectrum. Students behind the class could quickly catch up with peers, and students doing well in a class could direct their attention to other areas of attention. Even teachers have been able to enjoy the benefits of having more one on one instructional time.
German teacher and member of the original planning committee for excellence period Beth Peske explains that "One of the things that we as teachers didn't buy into at the beginning was the loss of instructional minutes".
Now, she finds that "kids are doing study sessions in my room during excellence… I've even had kids who were missing do an in-class activity they would've otherwise missed out on". Using the extra time every day, Spartans have been able to make up for class time they may have missed due to a sport, extracurricular, or sickness.
Despite its obvious intention for use as a student learning period, Fellmeth understands the needs of students using excellence period for stress alleviation such as listening to music, meditation, yoga, even taking a quick nap.
She explains that she is "never going to argue with social and emotional well-being", making clear that while excellence period is instructional time,students should use the time productively, "We all have days where we need to just decompress".
Banner polling revealed that while only 4.5% of polled students use excellence for rest, the resting time was often "necessary to get through the day".
A greater concern for Fellmeth is the 31% of polled students who spend their time during excellence period socializing. But, she trusts that those students are the ones who have their work completed.
For those that do need a nudge in the right direction, the school has implemented a new scheduling program: Edficiency.
Students are now able to request teachers ahead of time, and teachers can also request students to encourage them to "make positive choices for their education".
While teacher requests currently are used only 5% of the time, many students have not opted to request teachers for assistance. As of the end of September, daily sign in by students is done by only 48% of the the student body.
"We're seeing a majority of students just defaulting," explained Fellmeth. "And when you're goals for a resource is to improve student initiative, it's frankly disappointing."
However, for some, the default situation may not be as grim as the numbers make it appear. "As long as kids prioritize their teachers," said Spanish teacher Joslyn Hegelmeyer, "I think most kids don't mind to default if they don't have an immediate need to see a teacher". She does not see why aiming for everyone to sign up is necessary. She questions what point there is in selection "if you have no one you need to see".
Many students, when asked, offered a variety of potential solutions for improving excellence involvement with Edficiency, from text and email reminders to further flexibility in moving between excellence periods to moving back to the old attendance software.
While Fellmeth acknowledges Edficiency is here to stay, she notes that the school is currently working on improving the interface alongside Edficiency's founder, former teacher Joseph Connelly of Oshkosh.
"Text reminders for students and an app our some of our big ticket items," says Fellmeth, noting the responsiveness of the Edficiency developer in voicing their concerns. "He's told us, 'I've gotten that feedback, we'd love to develop something."
Moving forward, she believes "The focus really should be answering the question, 'What do you need?'". When addressing these concerns, she finds that the student body can grow the most by responding "in a mature manner".
Fellmeth wants to emphasize how important and useful excellence period is, edficiency or no edficiency. She argues that "our school is about preparing you to be excellent in whatever you do post secondary-military, career, college" and that  "The skills excellence period teaches you-the prioritization, planning, executive functioning skills, those are lessons you take with you wherever. That's what excellence is for: how to be a prepared adult."