Spartan Basketball Wins Big Over Nathan Hale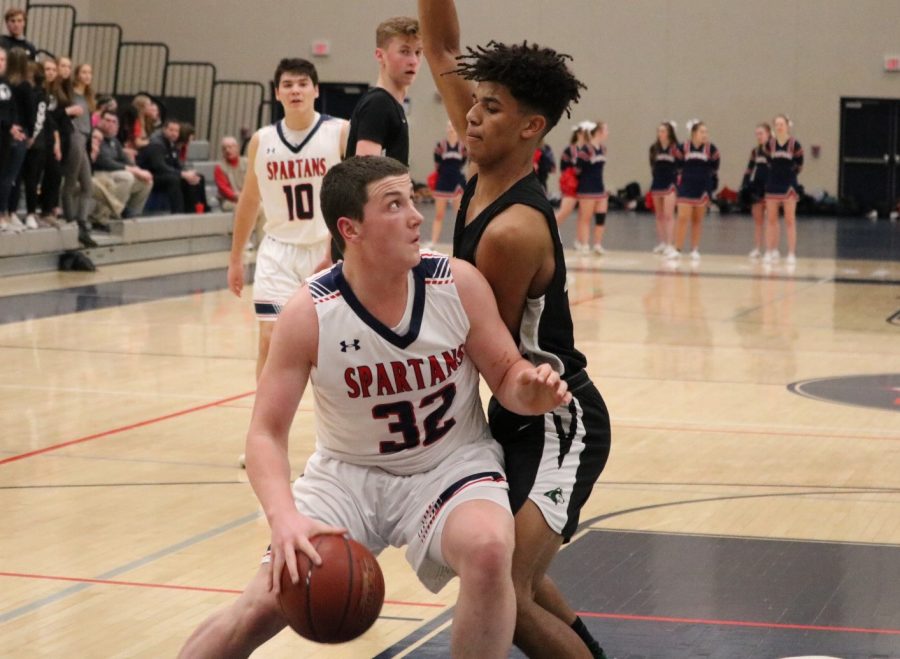 David Turicek, Writer
December 16, 2018
After coming up short at their first home game of the season, the Brookfield East Boys' Varsity Basketball team was looking to get their first home win on December 14th against West Allis Nathan Hale. Both teams were 1-1 entering the match; however, Brookfield East were favored to top their opponents.
In the first couple of minutes, it seemed as if the game was going to stay close. The Spartans maintained possession for the first minute and a half—ball movement was phenomenal.
As they finally conceded possession to Hale and the game started to become less one-sided, no team led by a large margin. The Spartans were able to gain around a five point advantage; nevertheless, their opponents were not going to give up.
Despite their opponent's efforts, Brookfield East was undoubtedly the better team. In the first ten or so minutes, shots were not falling for the Spartans. This kept Hale in the game even though they were struggling to keep possession and generate opportunities.
Careless mistakes from Hale paved the way for numerous fast break points. Points off of turnovers was very useful for the Spartans and it perhaps slimmed the hopes of the Hale squad.
As the Spartan players soon started making their shots, Brookfield East began to pull away and take control of the game. It was Hayden Doyle (10) and Thomas Franken (12) who powered the Spartans to a comfortable first-half finish with a 19-38 lead.
Doyle scored 10 points in the first half and Franken was an unstoppable behind the arc, hitting four three-pointers for 12 points in total. With a tough upcoming schedule, it is crucial for the Spartans to continue to flourish offensively. Players like Franken and Doyle will need to stay sharp to continue their success.
In the second half, the Spartans did well to keep their foot on the gas pedal. The most notable performance was by none other than Riley LeTourneau (12). He was a dominant post presence, powering through any defender Hale threw at him.
He managed to score 15 points in the second half and an overall total of 22 points. His offensive presence was unmatchable for Nathan Hale as they could not find a defender to stop his commanding force.
With the help of LeTourneau, along with the quality effort from the rest of the squad, the Spartans were able to pull away and never look back. By the end of the game, Brookfield East was up by 33 points.
Although it was a degrading defeat for Hale, they will surely learn from it and strive to perform better their next match. For Brookfield East, this game will serve as an indicator that they have a very special season lying ahead of them.
With some of the bench and reserve players getting their chance to play at the later end of the match, Coach Rux most likely got a better understanding of what his team is made up of this year. He knows that his team is full of young and veteran players who will work tenaciously in order to bring their school success.
Player of the Match
Riley LeTourneau – Brookfield East, Senior (22 points)
Other Notable Performances
Hayden Doyle – Brookfield East, Sophomore (13 points)

Thomas Franken – Brookfield East, Senior (12 points)

Sam McGath – Brookfield East, Junior (11 points)