A Hero Lost Too Soon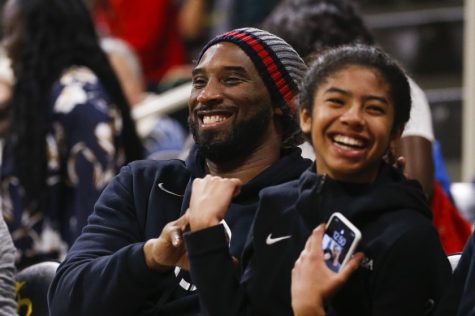 Kobe Bean Bryant died on January 26, 2020 at the age of 41, as his helicopter collided with the Santa Monica Mountains in Calabasas, CA. Bryant, a five time NBA champion, two time finals MVP, and 18 time NBA all star is widely considered one of the best basketball players of all time.
Kobe's sudden and tragic death immediately sent the sports world into mourning. Residents of Los Angeles – where Kobe played for 20 years – went to the Staples Center, transforming the Lakers' arena into a memorial. While the Lakers canceled their game on the 27th, all other NBA games were played in honor of Kobe. 
All games following Kobe's death began with one team purposely injuring an eight second violation and the other team a 24 second violation. Kobe wore both number eight and number 24 in his illustrious career.
Kobe's impact on the game of basketball is unmatched. Brookfield East girls basketball coach, Tyler Saxton, grew up watching Kobe, marveling at his supreme confidence. "I grew up when you held your follow through and yelled Kobe," recalled Saxton. "He's one of those guys you want to take the last shot. Super clutch," he continued.
Saxton went on to say, the "'mamba mentality' (Kobe's competitive mindset) was something that really inspired me because I was always short and not as athletic as everybody else, but every shot I took, I thought was going in." 
Boston Celtics star, Jason Tatum, echoed Saxton's thoughts, issuing a statement saying Kobe was  "my hero. My Idol. The reason I started to play this game, the reason I fell in love with this game." 
Kobe was able to influence a city in ways no other athlete could. "He was like a family member in our household," said Los Anglees native, Jerson Castillo. Kobe's ability to captivate an entire city can certainly be attributed to his unparalleled work ethic.
 In the words of Brookfield East boys basketball coach, Joe Rux, "Work ethic drives everything." Rux is fascinated with the stories of Kobe "calling [his trainer] at 4 in the morning and continuously working 3-4 hours on his game when he easily could have been sleeping in."
 For the girls basketball team at Brookfield East, Kobe's work ethic is used daily as motivation. "Because of him we have a standard of never taking a play off and working hard every single day you're in the gym," says Saxton.
Kobe Bryant's impacts are not limited to the basketball world. According to Saxton, "life's all about the continuous pursuit of excellence. Kobe did that on and off the court." This is reflected through Kobe's various endeavors off the basketball court.
 As a filmmaker, Bryant won an Academy Award for his direction of the short film Dear Basketball. As a businessman Kobe founded Kobe Inc., which invested in sports business ventures. As an author, Kobe published The Mamba Mentality : How I play. 
As Rux puts it, "he didn't limit himself to just one area and say, 'this is what I'm great at… but he tried to contribute and impact a lot of different areas.'"
As a 41 year old, Kobe's greatest passion was his wife, Vanessea, and five daughters. One of his daughters, Gigi, a basketball phenom was also killed in the helicopter crash. Kobe and Gigi were exceptionally close, and could frequently be seen supporting WNBA games together. 
A league desperate for equality and recognition found the perfect sponsor in Kobe Bryant. Saxton acknowledged Kobe's impact on the WNBA game saying, "as a girls coach you're constantly hit with an obstacle of stereotypes and stigmas put on girls that they can or can't do things. Having someone like Kobe believe in the female athlete is tremendous." 
Without Kobe, there is an undeniable void in the world. Saxton says, "The next phase of his life was going to be his best phase." Kobe Bean Bryant will be missed.