Five East Juniors Compete at Elmbrook Distinguished Young Women Competition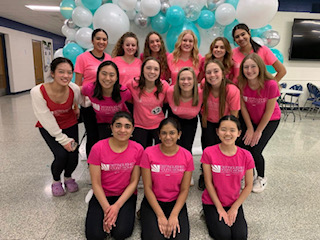 The Elmbrook Distinguished Young Women program was held the past Saturday at Wisconsin Hills, where fifteen participants from Brookfield East and Brookfield Central showcased their talents to compete for scholarship awards. 
Participants Suraksha Kodgi (11), Kathy Sun (11), Joshitha Senthil Kumar (11), Eiman Mir (11) competed for the Brookfield title and Lucy Irwin (11) competed for the Elmgrove title. 
Distinguished Young Women is a program that awards scholarships after evaluating participants for five categories: fitness (15%), self-expression (15%), talent (20%), scholastics (25%), and interview (25%). Scholarships are given to the 3 top participants within each category. 
For the weeks leading up to the competition element, participants prepared by practicing their talent performance, fitness routine, and interview skills. Prior to the competition, participants also conducted interviews with the panel of judges and had their scholastics scored. 
The night of the showcase, participants were scored on the remaining three elements: talent, fitness, and self-expression. For the talent portion, Kodgi and Kumar performed Bharatanatyam dance solos, Li performed a ballet variation en pointe, Mir recited poetry, Sun played a Concerto on her flute, and Irwin sang a vocal solo.  
At the conclusion of the night, awards for each category were presented to participants. These Brookfield East juniors earned scholarship awards across nearly all five categories and Irwin received the title of the Distinguished Young Woman of Elmgrove and a ticket to the state program later this year. 
Below are the other awards earned by participants: 
Interview Runner Up: Joshitha and Suraksha 
Self Expression Runner Up: Kathy 
Self Expression Winner: Joshitha 
Talent Runner Up: Kathy and Suraksha 
Talent Winner: Joshitha 
Scholastics Runner Up: Kathy 
Scholastics Winner: Irene 
Overall: Suraksha (4th), Irene (3rd), Joshitha (2nd) 
The program aims to empower girls to reach their fullest potential and to "Be Your Best Self." All of these participants certainly represented this motto and Brookfield East well!