Students Strike for the Climate Crisis
Amanjot Kaur
October 4, 2019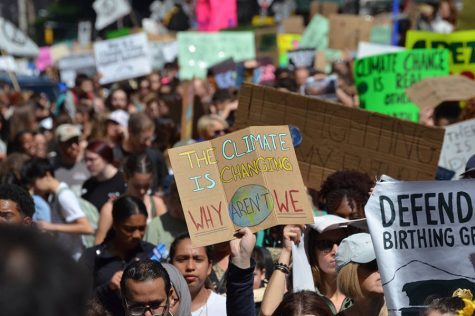 The year of 2019 has been a major one for bringing attention to climate change. With activists such as Greta Thunberg sailing across the Atlantic to attend Climate Summits and hold strikes to bring attention to the crisis, teenagers across the nation have never felt more inclined to act.
Why is that so? The environmental crisis has shown itself to be a worldwide threat within this past year, with natural disasters like the Amazon Rainforest Fires and Hurricane Dorian gaining attention internationally.
The Amazon, known for producing 20% of the world's oxygen, has suffered through 75,000 fires within the last 8 months, according to Discovery.com. Hurricane Dorian also broke records as the second-strongest Atlantic hurricane on record and, according to BBC, killed 43 people and destroyed thousands of homes and buildings.
All of this has tied itself back to the pollution, deforestation, and disasters caused by human actions. This has led to many people, especially teens, fighting for change.
As Greta Thunberg said, "We showed that we are united and that we, young people, are unstoppable."
The most notable action made by teenagers took place this past week: the Climate Strikes. Strikes have been occurring throughout the world, where students would protest to their state and national capitals in hopes of the government declaring climate change an emergency and making efforts to conserve the environment.
Wisconsin held its climate strikes on September 20th at the state capital in Madison and Milwaukee City Hall. According to the Youth Climate Action Team of Wisconsin (YCATW), almost 10,000 people showed up to Madison in support of solving the climate crisis.
Brookfield East has also been involving itself in environmental conservation efforts throughout this past year. With the district as a whole fighting to incorporate recycling and environmental consciousness into their system, many high schoolers have begun to pay attention to these issues.
Clubs such as Seed Club and Nature Center Club have been involved in spreading the message of environmental consciousness and bringing awareness to how students can treat nature better.