Reaction to the Wisconsin Supreme Court Decision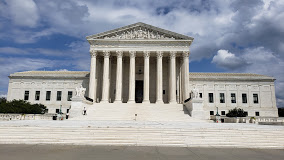 On March 25, 2020, Gov. Tony Ever's administration issued the first stay at home order in Wisconsin to protect the health and wellbeing of Wisconsinites amidst the Covid-19 pandemic. However, when the Department of Health Services Secretary Andrea Palmer issued the "Safer at Home Extension" that was scheduled to run until May 26th, the Wisconsin Supreme Court overturned the order in a 4-3 ruling (NY Times). Therefore leaving Wisconsin with no statewide public health restrictions. 
In the wake of the court ruling, many bars, restaurants, and other businesses have reopened all across the state.
For businesses, the circumstances are nothing short of a dilemma. Some businesses have reopened  immediately after the ruling, some businesses have been preparing to reopen in a way to reassure customers and prevent the spread of the virus, while other businesses remain closed.
Business owners have also displayed a wide range of attitudes toward the situation.
"Right now, I'm happy with it," Cory Gatzke, co-owner of a bar says, "Because I don't know how much longer we would be able to withstand this if they had not allowed us to open."
Small businesses have been particularly pleased with the increasing demand following the opening. 
"I work at a small business; however, it was considered essential [during the original stay at home order] so we were doing well. But, since the opening business has been booming." Jackie Neumaier (9), a freshman at Brookfield East says. 
The economic impact of Covid-19 has taken an unprecedented toll on businesses. The most immediate pressure lies on small businesses that rely on conducting face-to-face interactions. To keep their businesses afloat, while still aiming to ensure the safety of customers, business owners statewide have implemented their own set of safety measures (JS Online).  
Owner Linda Weiser of Abigail Page Antique mall only allows five customers in at a time. Even more, customers are required to wear masks upon entering.
Annie Brown, owner of a barbershop in Reedsburg, implements a similar approach. "We're going to reopen with COVID on the brain," she says, using extra sanitation, scattering appointments, in addition to other safety measures to make it happen (JS Online).  
Mia Lor (9) believes that these precautions are not enough to stop the spread of Covid-19. " I definitely think reponing businesses will increase the spread of Covid-19 since there will be more human contact/interaction going on in these public places despite the cloth coverings and precautions when going out."
Despite the precautions taken, the public is still uncertain about what is to come. 
The Marquette law school finds that 69% of Wisconsin residents support the closing of schools, businesses, and the restrictions on public gatherings (WPR). 
The main concern is the increased spread of the virus. Chris Ott, executive director of the ACLU of Wiconsin says, "Public health experts have been clear that prematurely lifting social distancing measures will have serious and deadly consequences, especially for vulnerable communities." 
Officials in Kenosha county reported an increase of 20% in new cases the first week after the order was lifted (JS Online). Further announcing that at least seven employees from local businesses have tested positive as well. 
"It's only common sense." Annika Koval (9), a student at Brookfield East, says. "The more businesses opening, the more people will go out and have the excuse to go somewhere." 
 Despite this, much numerical evidence has yet to be reflected, as it takes several weeks after changes in behavior to see the greatest effect. 
As for now, local officials establish their own regulations to varying extents while the pandemic continues to rapidly evolve and affect the lives of millions.