Navigating the Course: A Season Like No Other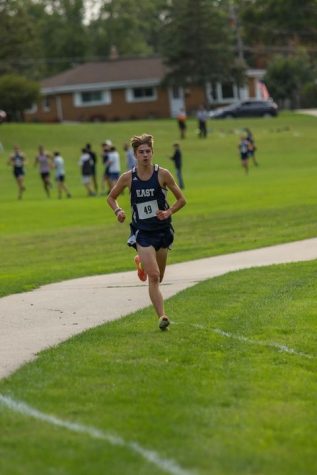 "We were ranked actually #1 after Stevens Point; this was going to be the first time we were ever going to win the state championship," Bell reminisced.
Like all other teams and organizations, the Brookfield East Boys Cross Country team faced numerous obstacles regarding the commencement and continuation of its 2020 season. From disjointed practice schedules to timing issues at meets, the projected state champions were up for the challenge.
As the district's plans for reopening remained uncertain, fall sports teams were forced to decide on how to prepare for their seasons if they were to take place. The team had "on and off Captain's practices," but no regular routine could be created. Two athletes, Logan Bell (12, Varsity) and Roy Reinke (12, JV), implemented their own training regimen during the summer, but no cohesive plan as a team could be put together.
Expectations, as well as anxiety, were high for this veteran-led Spartan XC team. Bell felt no shortage of confidence as he and his team "hop[ed] to shoot for a big title this year." At the forefront of everyone's mind, however, was the question of safety – how would the team prevent a positive Covid case from deflating their championship aspirations?
The team was forced to face this issue head-on, as "Grant Gaskell (11) was contact-traced" and "sent home" after the Mitchell Park State Invitational in late September, Bell explained. The Spartans then made the decision to switch from in-person to virtual learning for the duration of the season to keep themselves as safe as possible. This strategy proved effective as no other runners "got sent home after that incident," recalled JV runner Roy Reinke, whose team did not transition to virtual learning but experienced a successful season nonetheless.
As the season progressed, meets saw changes in location to accommodate for Covid safety protocols. In previous years, the team traveled "all around the state of Wisconsin…Janesville, Stevens Point, Neenah," recalled Reinke. To limit travel this season, meets were kept local – Mitchell Park and Rotary Park hosting the bulk of the season's competitions.
In addition to location changes, race formats were also altered to minimize contact between runners. A new policy implemented was the "wave start." Under this arrangement, "sets of two runners from each team would have to go out, all a delayed start," described Reinke. However, the challenge with this approach was maintaining a consistent and accurate timing system to ensure the integrity of the races.
Apart from timing concerns, another issue presented by the wave start made this year's meets even stranger – "ghost runners." In a traditional race, runners are motivated by those around them, always striving to pass whoever is in front of them. With everyone spaced out to minimize close contact, runners were essentially forced to race against "ghosts." With their direct competition out of sight, races "just [weren't] the same," lamented Bell.
Ambitions were never higher as the team headed into the postseason. The regular-season powerhouse assembled "the best team Brookfield East ever put together," according to Reinke, one of three JV runners boasting a Varsity-level time. East took home the Conference title and looked onward to the Subsectional.
The Subsectional presented another change in format; rather than utilizing a wave start, this meet split teams into "two heats based on geography and alphabetical order." This resulted in an inequality in competition between the heats, as the second heat contained only "three ranked teams," explained Bell.
The heat system would become the least of the team's worries, however, as timing concerns once again came into play. East raced their Varsity athletes in the first heat, and set a "huge standard." Despite this, suspicion of leaked times rattled the confidence of the Spartan runners. "A guy with a Whitefish Bay sweatshirt…writing down all of our times. We think that information was given out to the second heat, so all they had to do was put a few guys in front of our times, and voila, it's as easy as that," Bell observed.
The top two teams at the Subsectional advanced to the State meet. East finished third, just 3 points behind rival Marquette and only a few more behind Whitefish Bay. "It was rigged," exclaimed Bell, who finished fourth and individually qualified for State. The WIAA would later confirm a clock mistake in the second heat of the Subsectional. Runners in that heat gained an additional 10-20 second advantage. Adding to the frustration was East's previous performance at Conference against Marquette, beating them "handily by thirty or forty points."
What usually would be an exciting occasion, the State meet brought only disappointment for Bell. Sectionals (ran before State) were run in a typical, no-heat fashion. State, however, was run in heats, much like the Subsectional. This caused, yet again, an imbalance in competition. Rather than all of Wisconsin's best runners facing up head to head, runners were randomly pooled into heats, eliminating the fierce competition directly between the state's top runners. Bell put it best: "Sectionals was the Super Bowl, and State was the Pro Bowl. It just wasn't the same."