Brookfield East Wins Homecoming Football Game
One of the big events this fall was the annual Homecoming football game. The game took place between Brookfield East and Menomonee Falls High School on October 1st and featured a pink theme. 
The first quarter ended in a 7 point tie with Simon Lupton making the first touchdown for East. As the two teams began the second quarter, East started to inch ahead and ended up scoring three more touchdowns leading the team to win the quarter 28-14.
During the halftime show, the Spartanettes and Cheerleaders did not fail to amaze the crowd. The fairytale theme of this year's Homecoming dance was seen through their truly magical and uplifting performance. The Homecoming Court was brought out, with Rina Mistrioty and Seamus Kane being crowned Homecoming Queen and King. Furthermore, the band pumped up the crowd and put on a marching band performance. A certain Ben Westphal really got into the school spirit.
Following the entertaining halftime show, the Spartan football team continued to score in the third quarter and ended up winning another touchdown. As the team entered the last quarter, things were looking promising for East, but Menomonee Falls was not giving up. Both teams ended up scoring a touchdown in the final quarter, but it was East who won 42 to 28.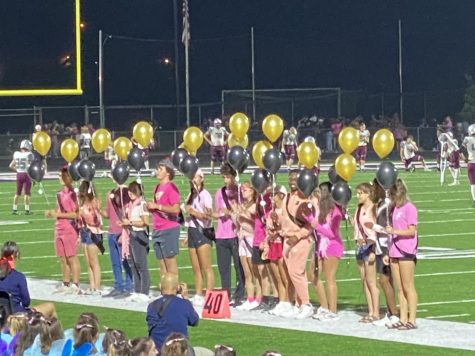 After the game, a fireworks show ended the evening and celebrated East's victory. Following a year of limited attendance to school events, Brookfield East found their spirit to make this Homecoming game memorable.