Spring Showers Bring May Flowers. Just Kidding, They Bring AP Exam Season.
With the earliest exam blooming on May 2nd and up until May 13, just the approaching season of these perennials brings fright upon students. AP tests can be daunting, but that doesn't mean you should shy away from them. With the right preparation, this season should be a breeze.
Using your resources effectively is crucial for getting a 4 or a 5. CollegeBoard has AP Daily Live Reviews on Youtube led by AP teachers. This year they are scheduled from April 18-21 and April 25-28, however, you can also access the review videos from previous years in My AP; these aren't the only resources we have available: Khan Academy, AP classroom, and Fiveable are also valuable resources.
If you prefer in-person resources instead, try attending AP exam sessions. All AP exam sessions are advertised in Edficiency and most teachers have already announced if they are hosting them and look forward to helping students. "Mr. Grunewald's review sessions help me feel more prepared and get a better sense of what I need to study. Attending review sessions is a good strategy for getting a 5," said Reiley Campos (11), who is currently studying for the AP US History exam. 
This next tip comes from senior Erica Chen, who has taken a total of 14 AP courses throughout her high school career! Chen says that you should consistently review the material as early as a month and a half before the exam: "Please don't wait until the last minute to cram."
Additionally, understanding the format of your test is very important. Every exam has sections and key ideas that are always tested. Taking practice tests can help you get familiar with the exam itself in terms of structure and formatting. 
Last but not least, create a study plan and don't get distracted. Put away your phone, schedule when you will study each week, and set realistic goals. Use this sample schedule for inspiration: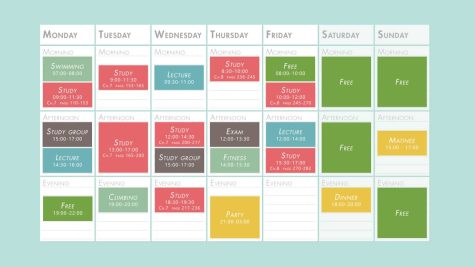 Here are some additional tips: 
"If you don't know what to say for an FRQ, draw a fun little image to relax your mind"-Erica Chen

"Dont take them"-Shaunik Raikar

"Don't worry about being concise, just put everything you know down for your answer"-Aarini Chakraborty