White Christmas: A Musical to Remember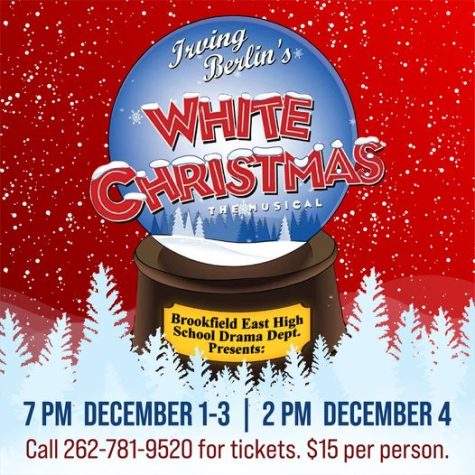 Music. Romance. Comedy. Heartbreak. Thrill. Seat-gripping tension.
This December, Brookfield East's Musical, White Christmas, is set to take the stage, starring a talented cast of musicians and performers.
 White Christmas takes on the journey of two army Veterans, Bob Wallace and Phil Davis, and their care for their former army general, spurring an expanse of emotions perfectly tailored toward both casual and diehard musical fans. Set on Christmas, Bob Wallace (Max Donohue, 12) and Phil David (Tyler Tranchita, 12) discover that their former commanding officer, Major General Waverly, is about to go bankrupt because of the lack of snow. In addition to their dilemma with Major General Waverly, romantic drama ensues between Bob and Betty Haynes (Grace Nealey, 11) and Phil and Judy Haynes (Lucy Irwin, 11), a pair of sisters the Army veterans have befriended. Through a combination of song and dance, watch and see how Bob and Phil navigate through their struggles and end their journey with snow falling from the sky, truly, a white Christmas.
The musical has always been a tradition at Brookfield East. This year, the experience within the cast runs deep, showcasing their passion and capability as performers. Junior lead Lucy Irwin has "always been to the East musicals, even since [she] was a little kid." Irwin knows her way around the stage, participating in school plays and choir since 4th grade. Similarly to Irwin, junior lead Fletch Allenstein has been in the musical program for many years, making a substantial impact on the musical "since freshman year." Irwin and Allenstein are grizzled veterans that have bloomed into leaders within the program. "The directors rely on us more to teach the younger freshman stuff. Acting, singing, dancing, etc." With the help of leaders like Irwin and Allenstein, the freshman class has seamlessly filled in the gaps the seniors left.
While the musical may be flawlessly executed each year, every individual puts in immeasurable amounts of hard work for months on end behind the scenes. Consistently pushing the boundaries of excellence, the musical persisted through countless difficulties. Ensemble member, Kyra Jester, describes the adventure, "It's not easy. Dances are getting more advanced, as well as the music. The community around us has helped us get over the road bumps." Allenstein, familiar with the situation, describes it as "a process. At the start, the production is always super rough. Every year there is a point when we seem super behind, and everything seems terrible, but it's all about those two weeks where we bring everything together and get it done in the end." Irwin adds, "You ride the highs and lows of the production until you reach the top, and once the journey is over, you return to the bottom. It's never easy, but we always get through it. Together." 
The choir directorship of Mrs. Doepke effectively assists students with various elements of the production. Doepke can go toe-to-toe with the most qualified out there. Vocally directing the last 12 musicals, Doepke knows the ropes and is a major contributor to the success of the musical. Doepke commands the vocals, and "coach[es] them on the hard nuances of broadway singing. Whether it's belting for the low music, or it's being able to sustain high notes, there is a lot of technique involved." Not only does Doepke have the technical abilities to support the cast, but her passion for the musical and helping her students is unparalleled. "It is such a thrill every year! I absolutely geek out when I get over to the Wilson Center! You walk in, and there are kids on stage, in costume, the pit is set, and you start to see the full-blown musical unfold! I know these kids are very amazing, talented, and capable! Every week I see it getting a little better, a little more refined, and then to finally see it in its full glory on stage, it's just absolutely thrilling, and I get crazy giddy!"
With the official show right around the corner, the musical crew can take a step back and reflect on their experience in the production of White Christmas. Jester states, "The musical brings out the best in us, and I love it! It helps me make great connections with friends and encourages everyone to expand their comfort zones!" Additionally, Irwin loves the process and expresses, "It's fun to be somebody that you aren't. You can say silly things and embrace your role, and nobody can judge you for it. It's a lot of pressure, but it is worth it in the end!" Irwin strives to be the best. She is always on her musical grind. She listens to White Christmas songs, even "when brushing [her] hair". 
Brookfield East's White Christmas musical is a must-see production! Show Bob and Phil some of your Christmas spirit, by joining them on December 1st through 4th at the Sharon Lynne Wilson Center!
Buy tickets here!
https://www.wilson-center.com/calendar/2022/12/1/brookfield-east-high-school-presents-irving-berlins-white-christmas