Student Brings Awareness to an Important Cause through AP Research Project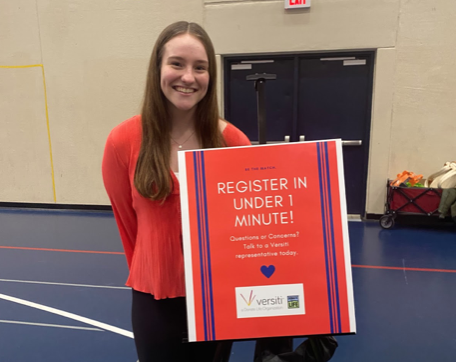 Within the four walls of what seems to be an ordinary classroom, students are working vigorously to solve worldly issues and find ways to improve not only Brookfield East but their community as well. AP Research, instructed by Mr. Saxton, provides students with the opportunity to conduct in-depth research about anything that strikes their curiosity. The course allows nine months to construct a research project in the form of an essay and presentation and to submit your work to College Board. This year, projects range from researching methods to inspire more students to play an instrument at East to the psychology behind the international Lego company. 
Alissa Grace (11), junior, is an AP Research student committed to her project on organ donation. In an interview, Grace provides insight into the life of an AP Research student. 
Project: Organ Donation
Grace's goal is to measure educational intervention's effects on organ donor registration rates. She hopes to determine people's attitudes toward organ donation and their intent to register. Grace partnered with Versiti and set up a presentation at a recent girl's basketball game. She had volunteer participants fill out a survey asking various questions about their organ donation status and their knowledge of the subject. 
What has been your greatest struggle thus far?
"In the beginning of my project, I struggled with finding a platform to give a presentation on and finding a sample to give the presentation/survey to. It was hard to find incentives for people to want to fill out my survey and help my project."
What is your passion/inspiration behind your project?
"For one, I am very interested in entering the medical field as a career. I am also deeply concerned about how long and difficult the waitlist for an organ is. Too many people die on the waitlist. It has a large impact but has such little awareness."
Grace is using the AP Research class at Brookfield East to make a difference in the community that has the potential to increase organ donation, which will, in turn, save lives. 
As a current student in the program, I recommend fitting AP Research and AP Seminar (the prerequisite for AP Research) into your schedule. While these two classes force you to sacrifice some of the other courses you may want to take, the pros greatly outweigh the cons. Some perks: experienced and genuinely invested teachers teach both classes, you will receive the Research CAPP Diploma (which looks great on a college app), AP credits for a GPA boost (much easier to get credit this way than by taking AP Chem or Calc), and a research tassel at graduation (who wouldn't want an extra accessory on the big day!?).