Somewhere around twenty five million spectators around the world are currently tuning into one of the oldest and most prestigious tennis tournaments there is. 
Wimbledon. 
Since 1877, this tournament has been held during mid-summer at the All-England Club in Wimbledon, London. Wimbledon is a part of the four Grand Slam tournaments, the others being the Australian Open, the French Open, and the U.S Open. Wimbledon, in particular, is not only the oldest tournament, but it also may have inspired worldwide affection for the sport.
The First Match
On April 14, 1877, twenty-seven-year-old Spencer William Gore on one side, and William Cecil Marshal on the other. Both were sporting beaming white polos and belted trousers. After a 48-minute final, Gore stood on the perfectly manicured grass, waving to a humble crowd of 200 people.
Changes to the Tournament
Around this time, most of the matches hosted an average of 14,000. Last year, over 25 million people watched Wimbledon. Most of these matches last at least two or three hours. 
Today, both women and men compete in Wimbledon in singles, doubles, and mixed doubles. However, women were not allowed to play in Wimbledon until 1884. Even though the Lady's Championship had to be played after the gentlemen and the entrance fee was exactly half of what the men were, this was still a monumental step for women in sports. Other important moments include the 1957 tournament when the world saw the first black player, Althea Gibson, win the singles championship.
While it has gone through many changes, the tournament has also stayed true to sticking to tradition. For example, players are still required to wear all white and all matches are played on grass, which is considered the original tennis playing surface.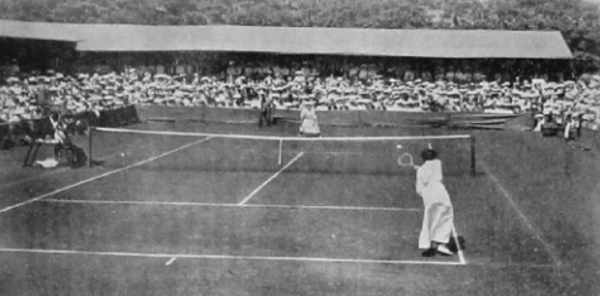 Strawberries and Cream 
Among the rest of the Grand Slam tournaments, Wimbledon is the most immersed in tradition. To this day, players are required to fashion mostly white. One of the most famous traditions is strawberries and cream. It is said that the snack was first popularized because it was favored by King Henry VIII's Lord Chancellor, Cardinal Thomas Wolsey, far before the Wimbledon tournament was even established.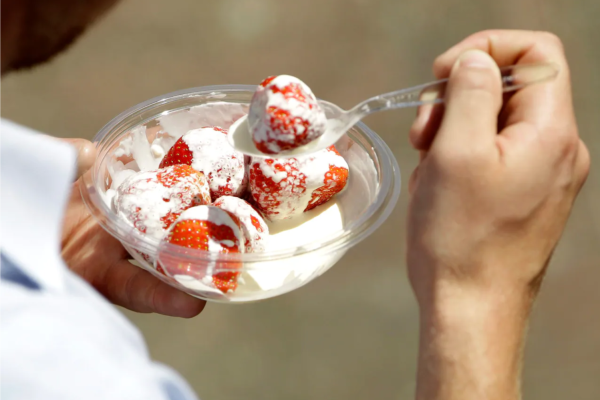 Just last year alone, 2.25 million strawberries were sold, and to keep pace with high demands, around 170,000 strawberries are imported to the courts each day.
Tennis stars like Serena Williams, Roger Federer, Pete Sampras, and so many more have made their names known because of the Wimbledon tournament. From the past to the present, the tournament has come a long way. However, the tournament remains steeped in tradition. From the distinct grass courts to the bright pink strawberries, and to the cream attire, Wimbledon will always be a one-of-a-kind tennis tournament.