Since "March 2023," there have been 6,228 wildfires in Canada this year due to a devastating drought, frequent lightning strikes, and damaging human activity. The brutal flames have resulted in 6 deaths and the displacement of at least 2,500 people. 41.92 million acres have been destroyed including 200 houses, forcing more than 155,856 people to evacuate.The wildfires have also had a tremendous impact on infrastructure. "We've … seen continued impacts to critical infrastructure in Quebec such as roads and rural closures, telecommunication interruptions, and high voltage power lines being threatened by the growing fires," said Bill Blair, Federal Minister of Emergency Preparedness.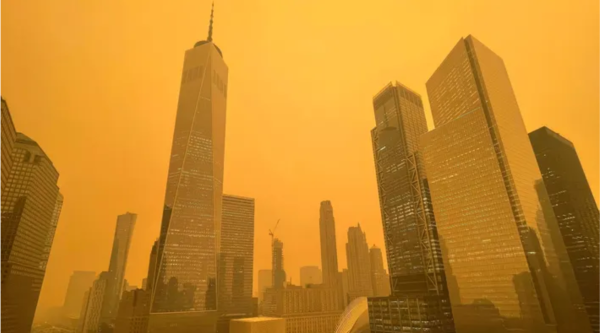 But Canada isn't the only country reeling from the fire's repercussions. The smoke has traveled from Northern Quebec to the US, putting more than 128 million people under air quality alerts, across 16 states that border Canada. Wildfire smoke includes various air pollutants that can lead to respiratory irritation and aggravate existing conditions such as asthma. Before the fire, 17% of ER visits this year were asthma-related across border states. Now there has been a significant spike, with statistics jumping to 89% of ER visits being asthma-related. Here in Wisconsin, the air quality on June 27 reached a startling 239 AQI. The normal, healthy AQI range lies below the 50-100 mark. The situation seems bleak. Just this month, Natural Resources Minister Jonathan Wilkinson said that there is a possibility that the wildfires continue into the winter, putting Wisconsin wildlife and livestock at risk.
In terms of support, different organizations and individuals have been providing support for relief efforts. For example, the U.S. The Department of the Interior, which helps manage public lands and national parks, has been sending the DOI USFS and state wildland firefighters to help Canada. In fact, the U.S. Department of Agriculture's Forest Service and the Department of the Interior's Bureau of Land have sent a total of 600 federal and state firefighters and organization workers to aid refugees and control the devastating flames. In the past few months, external organizations such as the Canadian Red Cross Firefighters without Borders, the Odawa Native Friendship Center, the Canada Wildfire Relief Fund Federal, and the provincial governments in affected areas have all donated to wildfire-related efforts in Canada, raising over $ 2 million dollars to help rebuild and replant the forests.
 
The Canadian wildfires have been going on for a very long time but you can help by donating to causes like the Canadian Red Cross


References
https://www.pbs.org/newshour/world/canadian-province-of-quebec-looks-for-international-support-to-fight-over-160-wildfires

https://www.nytimes.com/2023/08/26/world/canada/the-wildfires-are-still-burning-but-the-economic-toll-is-becoming-clearer.html#:~:text=As%20for%20the%20 insurance%20industry,but%20 remain%20 manageable%20 for%20 insurers.%E2%80%9D

https://abcnews.go.com/International/wireStory/wildfires-canada-broken-records-area-burned-evacuations-cost-100806230

https://www.nytimes.com/2023/06/09/world/americas/canada-wildfires-how-to-help.html#:~:text=from%20their%20communities.-,Federal%20and%20provincial%20governments%20have%20pledged%20to%20match%20donations%20to,million%20in%20total%20so%20far

.

https://www.cnn.com/2023/07/16/weather/canada-wildfires-us-air-quality-alerts-sunday/index.html#:~:text=Canadian%20 wildfire%20 smoke%20is%20 bringing,states%20from%20Montana%20to%20 Vermont

.